Corserv, a company that empowers Banks and Fintechs with payment programs, announced today that Valley Republic Bank has partnered with Corserv to offer credit cards to their professional, business, and non-profit relationship customers.
"We are dedicated to providing the best services to our relationship customers, and Valley Republic Bank can now do that for credit cards with the full featured program from Corserv", said Geraud Smith, President and Chief Executive Officer of Valley Republic Bank. "Corserv's program enables us to provide excellent customer service and powerful features such as alerts, controls, and virtual cards for a full suite of competitive credit card products."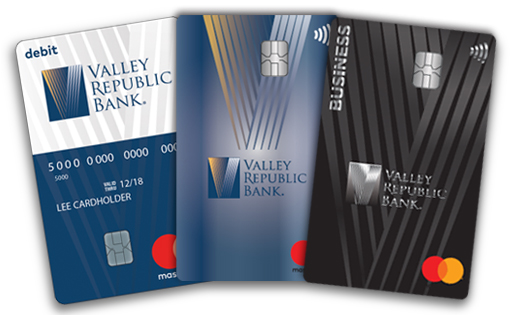 "We support Valley Republic Bank's focus on relationships and service with a program that considers the overall relationship with their customers when making credit decisions, and provides excellent customer service online, in branches, through a call center, or using an IVR", said Jerry Craft, CEO of Corserv. "Corserv's newest features for invoice payment automation and an expense reporting system enables Valley Republic Bank to better service local businesses, municipalities, and non-profits."
Through Corserv's program, Valley Republic Bank offers bank-branded Mastercard® Platinum Low-rate, Platinum, Platinum Rewards, and World cards to consumers and businesses, with Corporate, Corporate Rewards, Purchasing and Virtual cards offered to commercial customers. Use of these cards within Apple Pay, Google Pay, and Samsung Pay is also supported.
Learn about these Mastercard® credit card products now from Valley Republic Bank's relationship bankers.
About Valley Republic Bancorp and Valley Republic Bank
Valley Republic Bancorp is a bank holding company formed in 2016. Valley Republic Bank is a wholly-owned subsidiary of Valley Republic Bancorp, headquartered in Bakersfield, California. The Bancorp is subject to the regulatory oversight of the Federal Reserve Bank, and the Bank is subject to the regulatory oversight of the Federal Deposit Insurance Corporation and the California Department of Business Oversight. Valley Republic Bank is an insured, state-chartered, non-member bank of the Federal Reserve System. The Bank is in its twelfth year of operation, having been established in 2009. Valley Republic Bank is a full-service, community bank with three full-service banking offices in Bakersfield, one full-service banking office in Delano, and a loan production office in Fresno. Valley Republic Bank emphasizes professional, high-quality banking services provided to a wide range of businesses and professionals. The Bank also provides a full complement of banking services that are available to individuals and non-profit organizations.
Contact: Christopher O'Neil, AVP Bankcard Manager, (1.661.564.3203), c.oneil@valleyrepublic.bank
About Corserv – Corserv provides a turnkey credit card issuing program that enables financial institutions to deliver competitive, branded credit cards to consumer, business and commercial customers. Corserv's secure hosted programs combine our credit, compliance and marketing expertise with our modern online solution – everything our clients need to quickly build a successful card-issuing business. Our financial institution clients can increase their earnings per share by owning their customer loans and benefitting from loan interest, interchange, fee income and economies of scale from Corserv's client base. Most importantly, our clients control their credit card customer relationships. For more information, please visit www.corservsolutions.com